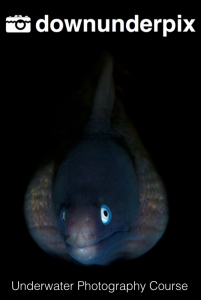 If you are new to digital underwater photography or looking to get the most of your underwater camera system then the new downunderpix underwater photography course is for you.
The course has been written by professional underwater photographer Paul Macdonald and is based on his extensive knowledge and experience. It is conducted by Paul in a friendly and fun atmosphere. Downunderpix's comprehensive underwater photography course is designed to provide you with the technical and practical knowledge to become a competent digital underwater photographer. It comprises theory (available on-line or in hard copy), diving and workshop sessions.
The theory section covers relevant information in relation to:
• Using your digital camera
• The behavior of light underwater
• Composition
• Taking your camera system underwater
• Post dive camera system care
• Post production
Also included is 4 practical photography dives with Paul where you get to practice the proven techniques that will improve your underwater photography skills. The course concludes with a post production workshop where Paul will show you how to quickly edit your photos for maximum effect as well as provide a critique of your photos taken on the course dives.
For more information: info@downunderpix.com or contact Paul on 0419 819 083